If not for Life on Mars I don't think I would have loved Hot Fuzz as much as I do. But as it turned out I understood the movie completely especially because how similar its main character, Nicholas Angel, is to Life on Mars' Sam Tyler.

I'm know that those of us here who have scene Hot Fuzz noticed many of these similarities instantly. For those unfamiliar with the movie, I hope this inspires you to give it a look. Because I adore it.

In this post with the use of text, pictures, and videos I set out to show you startling and amusing similarities.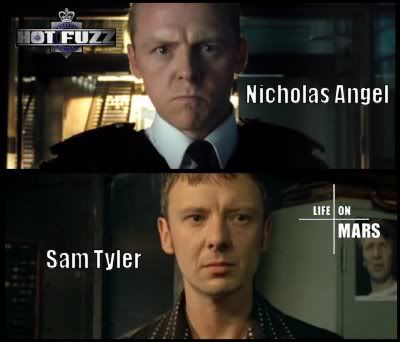 1. Wanted to be police officers since childhood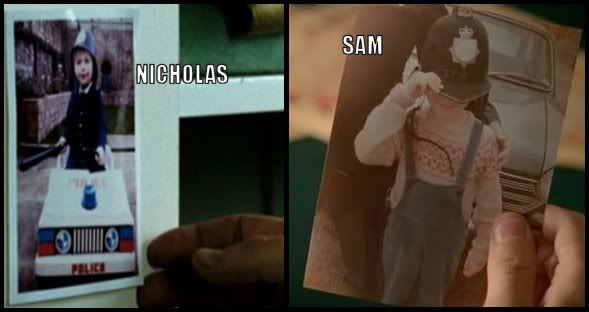 2. Strive for complete Political Correctness (LoM clip first then Hot Fuzz, as with all videos in this post)


3. Same necklace and St. Christopher medallion.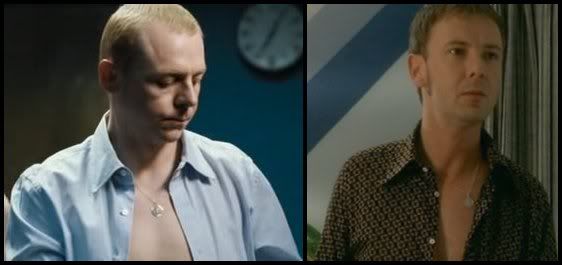 4. A bit of Health nuts. Including an affinity for Yogurt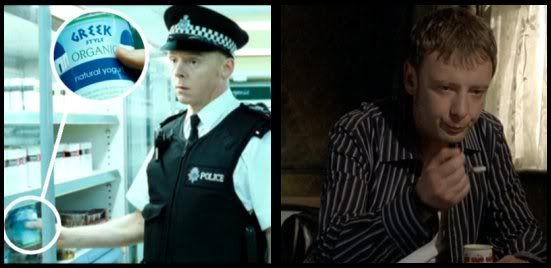 (you know in present-day Sam buys organic)

and morning jogs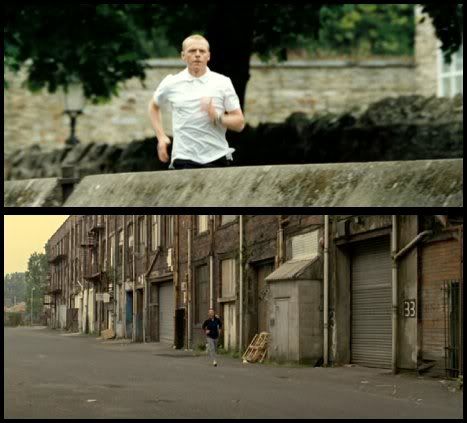 5. Which must give them the edge they need to perform stunts such as hopping over the bonnet of a car while chasing a suspect
6. Despite having a distaste for guns, are very good with them nonetheless.
7. Have a very "Special" and close reltionship with their respective partner.



8. Share an utmost belief in the moral responsibility of their chosen profession.


9. Don't like to drink alcohol on duty or even worknights
In Sam's first pub scene he orders a Diet Coke, but quickly has to change it to a bitter.
For the frist three pub scenes Nicholas has cranberry juice, only to be persuaded to alcohol later by Danny.
But since this trait is quickly abandoned by Sam, I didn't feel it that necessary to use clip or pic evidence.

10. Similar Music follows them around.
The Band T Rex is frequently heard wherever Sam goes, and one of their songs is heard in one of Nicholas' pub scenes.
But specifically The Sweet's "Blockbuster" and Cozy Powell's "Dance with the Devil" which were used in episdoes of Life on Mars are also on the Hot Fuzz soundtrack.

x-over soul mates? Separated at birth? Or just honest representations of the modern British police service? You decide.