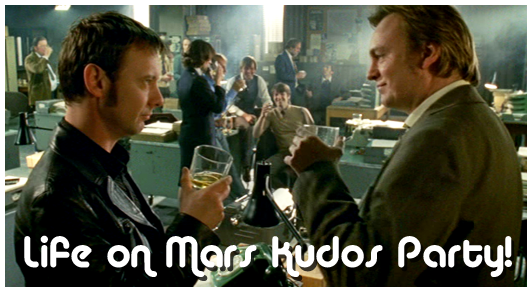 What?
The Archive of Our Own or AO3, presently home to over 600 Life on Mars stories, has a function called "Kudos," similar to FaceBook's "Like" button. When you read a story and like it, you can either leave a comment, as on LJ, or hit the "Leave Kudos" button.

Kudos get emailed to the author, and they show up on the story with a little graphic of someone doing rockstar arms with hearts between their hands.

Who?
You! You don't need a username to leave kudos or comments at the AO3. Anonymous kudos show up as "A guest left kudos!" You do need to give an email address to leave a comment with text in it, but the address doesn't display on the site anywhere.

Anonymity is great for praising that fan whose work you've loved for years--you know the one, their work is so cool, and you just can't say the right words to let them know. Kudos!

Or maybe you love the author, but that one story they wrote is so hot and dirty you're embarrassed to let anyone else know you read it. Kudos!

There are dozens of LoM authors on the AO3--Lozenger8, Severinne, Chamekke, the list goes on--and many of them have uploaded their new stuff and their old stuff, too. If you haven't read everything in the entire community, or you like rereading, it's a bonanza, complete with easy-to-track tags.

Why?
Authors like feedback! Kudos are a quick and easy way to leave feedback, make authors smile, and, with any luck, encourage them to write more of what you like.

It's not just about the new stuff, either. Kudos are useful when you're rereading a story. If you left a comment back in 2006, great! If you reread something and you love it all over again, leaving kudos lets the author know you were there and enjoyed it one more time.

If you read something and you have more to say to it than "Kudos!" then by all means, comment! Or for a two-fer of love, you can comment and leave kudos on the same story.

The AO3 is a panfandom archive, so if you find an author you really like, they may have written things outside this fandom you'd also enjoy. Click their username and browse to your heart's content.

Where?
All the Life on Mars stories at the AO3 in one handy-dandy link.

How?
To read, click here.

Pick a story.

Read it. Enjoy it.

When you get to the bottom of the page, hit the button that says "Leave Kudos ♥".

If you have time, go back, pick another story, and do it again!

For authors who have their work up on the AO3, leave a link to your username in the first thread in the comments to this post. For example, I'm
petronelle at LJ, but Petra at the AO3.

If you want to help your readers out even more, link directly to your LoM stories. Your username at the AO3 is not case-sensitive, so both Petra and petra work for me.

The link text for your LoM stories is:


When?
This week! Start now, and we'll go on till next Monday. Leave kudos early, leave kudos often, and make authors smile. Okay, you can only leave kudos on any given story once, but lots of the authors there have multiple stories in the fandom.

But--
"This work deserves more than just my kudos!"
-- Leave kudos. Comment. Then come back to this post and leave a recommendation in the comments!

"My work isn't on the AO3 and I want kudos."
-- Comment to this post with "Invite me!" and leave your email address, and I'll send you an invitation right away. Since the Kudos Party goes on all week, you should have time to get a username, import your stories, and let everyone know you're ready for them to leave you kudos!

"Isn't the singular of kudos kudo?"
-- No, it's derived from Greek and means acclaim or praise for exceptional achievement. Technically it is a mass noun, but it's used for the singular, like "sheep" or "moose." The theoretical plural would be "kudea" or "kudoi."

"Who made that cool banner?"

lozenger8 gets kudos for the banner!

What else can I do?
Spread the word by linking to this post in your journal.

Copy & paste this text, for just a text link:


or this text, for the banner:


The more, the merrier!